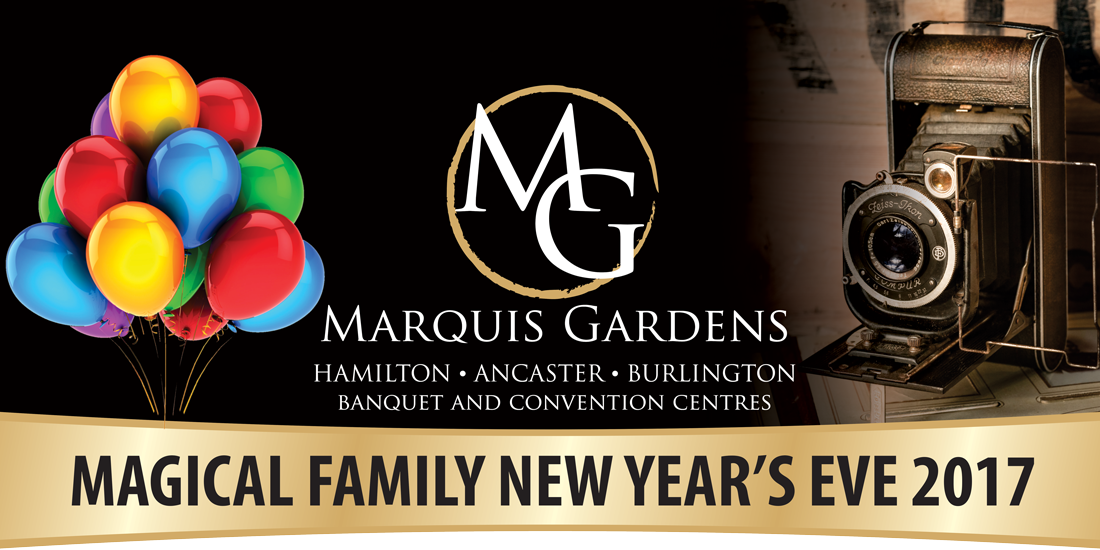 HAMILTON & ANCASTER
Hamilton
: 1050 Rymal Road East, Hamilton, Ontario L8W 3N6 | Tel: 905.388.4411 | Toll Free: 1.888.991.9954
Ancaster
: 1365 Sandhill Drive, Ancaster Ontario L9G 4V5 | Tel: 905.304.4416 | Toll Free: 1.877.304.4416
Sunday, December 31st, 2017
Doors Open at 6:00PM - Dinner Served at 7:00PM
MENU
Freshly Baked Rolls & Marquis Stuffed Bruschetta
(Fresh Roma Tomatoes, Olive Oil, Fresh Basil & Parmigiana stuffed in a Toasted Baguette)
Platters of Farfalle Pasta topped with a Tomato Basil Sauce
Platters of AAA Grill Iron BBQ Sirloin Filets with Garlic Mashed Potatoes
Platters of Breaded Chicken Cutlets garnished with Fresh Lemon served with Fresh Stir Fry Vegetables
Bowls of Marquis Winter Greens Salad tossed in a Honey Balsamic Dressing
Assorted Seasonal Dessert Pastries & Freshly Brewed Coffee & Tea for Adults
Late Night Sweet Table to Include:
Cheese Pizza, Pepperoni Pizza, Assorted Tarts & Squares, Fresh Carved Fruit, Freshly Brewed Coffee & Tea
---

Superb Disc Jockey Entertainment Provided by DJ Central.
*NEW* Photo Booth provided by Giant Camera Photo Booth
New Years Eve Party Favours. Balloon Drops
Cash Bar from 6:00PM to 1:00AM | Pop and Juice Included for ALL CHILDREN.
Tickets: Adults (Age 11+) $58.98 + HST. Children (Age 4-10) $36.50 + HST. Babies 3 & under No Charge
All Tickets are Non-Refundable.